Crypto token offerings are a relatively new concept, with few best practices and reliable frameworks. 2017 saw a frenzy in funding for crypto-related projects along with concerns of bad behavior and lack of accountability. For our 2017 accredited investor token offering we wanted to introduce checks and balances for the use of funds and put certain investor protections in place. There was no requirement for us to do so but we self-imposed restrictions in our model as we believe that checks and balances better align incentives and lead to a healthier ecosystem in the long-term.
We introduced two mechanisms in our 2017 token offering.
a) Milestone-based funding: The first was the creation of two funds as a means for investment, which allowed for milestone-based triggers. Only 20% of the capital raised through the funds is available to Blockstack PBC as R&D and we must successfully develop and deploy our network to unlock additional capital. More specifically, the restrictions on the remaining 80% capital are structured as two milestones, the first of which is based on successful development of our network and the second based on user adoption. This creates a system of accountability after the token offering.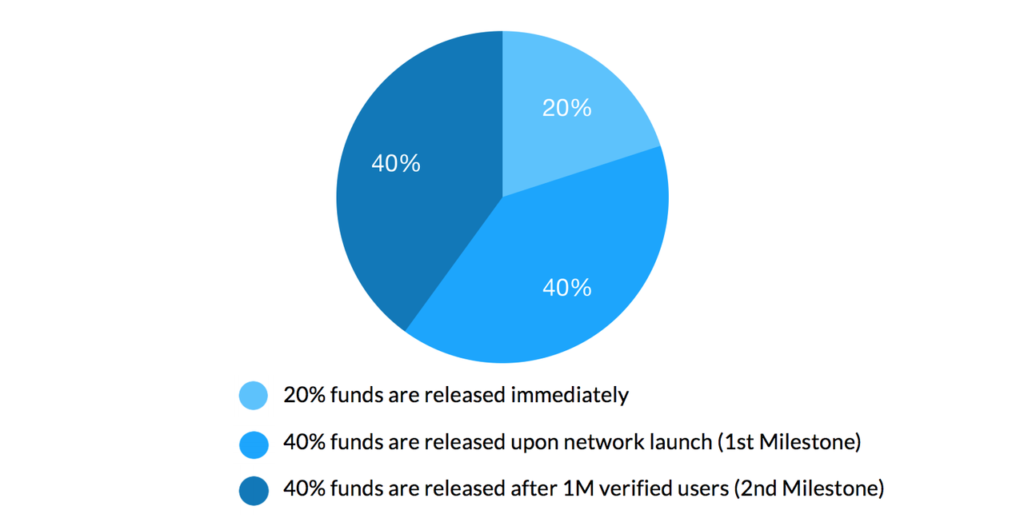 b) Governance Structure: The second mechanism was a governance structure through the introduction of an advisory board for the Blockstack Token Funds. The advisory board has no overlap with Blockstack PBC executives or board members and is comprised of seven members. Four advisory board members are fully independent of Blockstack PBC, the Blockstack Token Funds and the Stacks tokens, and three members are Stacks token holders who invested in the Blockstack Token Funds.
The advisory board evaluates Blockstack PBC's progress with regard to the milestones and will make the final decision on whether we have successfully met each of the two milestones.
Today, we are happy to introduce the advisory board for the Blockstack Token Fund. These members have expertise across distributed systems, blockchains, early stage investing, and digital privacy. After the Stacks blockchain launches on October 30th, the Advisory Board will meet to decide on the success of the first milestone and whether to unlock the next tranche of capital so we can continue building our technology and growing our community.
The seven members of the advisory board are:
Arvind Narayanan, an Associate Professor at Princeton University and an Affiliate Scholar at the Stanford Law School. He researches information privacy, internet security, and has written a textbook on Bitcoin and cryptocurrency technologies. His work on internet privacy received the 2008 Privacy Enhancing Technologies Award.
Arianna Simpson, an early stage investor and Managing Director at Autonomous Partners, an investment fund focused on cryptocurrencies and digital assets. Before she started investing, Arianna was at BitGo, a blockchain security company, where she was the third employee.
Catherine Tucker, the Sloan Distinguished Professor of Management at MIT Sloan and Chair of the MIT Sloan PhD Program. She researches how technology can improve operations and marketing at firms, and associated challenges for regulations. She is associate editor at Management Science and a research associate at the National Bureau of Economic Research.
Charlie Saravia, a Managing Director of HMC. Previously, Mr. Saravia was a Managing Director at CIMC, where he sourced, evaluated and managed investments across asset classes and regions for nine years. Mr. Saravia is a Chartered Financial Analyst.
Koen Langendoen, a Professor of Computer Science at Delft University of Technology, the Netherlands. He holds the Chair on Embedded Software and has rich experience in systems research, in particular, networking protocols and distributed systems.
Rodolfo Gonzalez, a Partner at Foundation Capital. He is fascinated by financial disintermediation, peer-to-peer funding, and bringing transparency and simplicity to the consumer experience. He holds a MBA from MIT Sloan's School of Management.
Zavain Dar, a Principal at Lux Capital focusing on smart software, machine intelligence, and decentralized computing. Previously Zavain was an investor at Eric Schmidt's Innovation Endeavors. He studied at Stanford and is currently a Lecturer at Stanford where he has taught quarter long seminars in cryptocurrencies, AI, and venture capital.
We're honored to have these experts join the Advisory Board and look forward to working with them in the coming years!
This post does not constitute an offer of securities. The Blockstack Token Funds are no longer available for investment.