**Update November 19th, 2020, Stacks 2.0 on-track for code completion on December 15th, launch day set for January 14th. → Full update
---
Now that Krypton, phase 3 of out of a total 4, is live on the Stacks 2.0 testnet bringing Proof-of-Transfer with it, it's a good time to revisit projections for the full launch of mainnet, reflect on the work done so far, and look ahead to what remains.
First, a quick recap on the major Stacks 2.0 pieces already shipped and other important related work:
PoX consensus draft paper was released in Feb 2020.
The Stacks 2.0 Testnet phases started going live in April. The first 3 phases have been launched: Neon (April), Argon (June), and the most comprehensive Krypton phase (Sep).
A brand new Explorer that supports Stacks 2.0 → Explorer
A new Stacks Wallet with Ledger support and test features for Stacks 2.0 → Try it
A complete overhaul of docs in preparation for Stacks 2.0 → More
New stacks-transactions-js library → Github
Developer Preview of the Stacks Blockchain API for Stacks 2.0 → More
Community driven Rosetta implementation for Stacks Blockchain API
New Blockstack Connect release with Stacks 2.0 transaction signing and browser extensions → More
Clarity collaboration with Algorand was announced and 100+ smart contracts were written (meet winners of hackathons here and here), various upgrades were released, and a plethora of developer tools was built by the community, highlighted by clarity.tools from Terje Norderhaug.
Getting this right
First, we should remember that the Blockstack community and the PBC team have a long history of being patient with the important things. Years of Ph.D. research at Princeton and peer-reviewed papers preceded the launch of any Blockstack software. Then there's compliance, having worked patiently with the SEC to create and follow a regulatory path that protected STX holders and the long-term interests of the community.
In short, we'll happily take the longer route if it means something is done right.
The Stacks 2.0 launch is an example of something that we're committed to getting right. Blockchains by their nature are harder to modify after launch than typical software, and if you've been following the weekly technical updates or have read the SIPs, you know the Stacks 2.0 chain is novel and blockchains are complex by nature. In addition, this is a large engineering project with a huge amount of work.
We're committed to listening and learning, addressing feedback from community and experts while keeping an eye out for new information and better best practices.
When mainnet?
Given all the interesting things Stacks 2.0 will open up, it's no wonder this is a recurring question. Everyone from developers to traders, to Bitcoiners, to the OGs of the Stacks community want to know.
The short answer: Stacks 2.0 will launch only when specific criteria (engineering tests) are met.
Our focus is on "launch readiness" as the actual launch will be controlled by independent miners. To determine launch readiness, we've broken down the path to mainnet into phases. Each phase introduces new functionality and capabilities. The general idea is that we can't enter a new phase until 1) functionality of the next phase is implemented and 2) all critical issues identified from the current phase are addressed.
You can check out remaining work in the simplified phase view below and there's also a detailed technical tracker so you can follow the progress of the current phase. Xenon the Stacks 2.0 Phase 4 has started!
Testnet Phases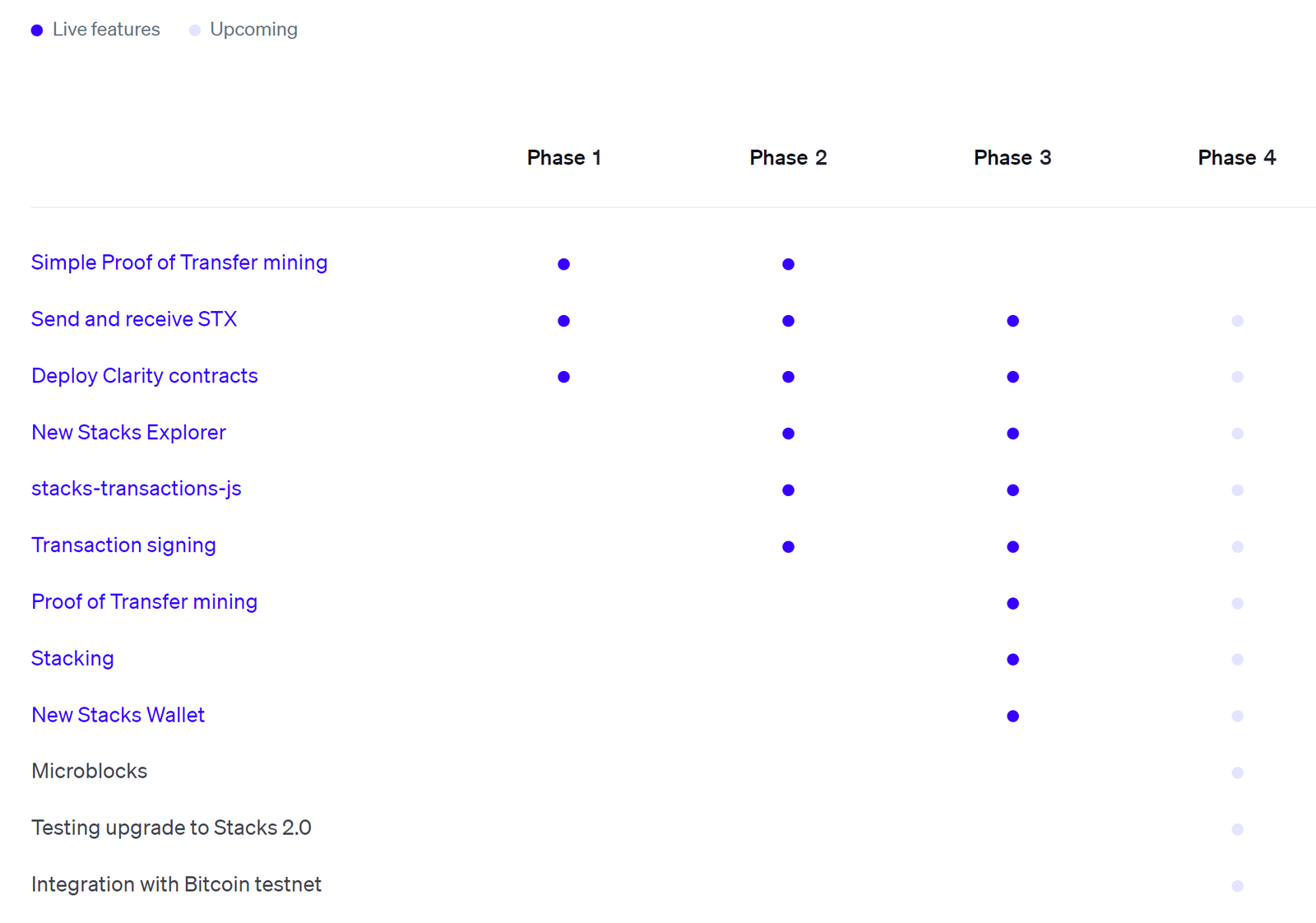 What's your best current launch day estimate?
It's natural to want a date to look forward to and we're always working to improve our ability to make accurate estimations, but we're much more concerned with ensuring a successful launch.
With Phase 3 (Krypton) going live earlier this week, 90% of the implementation outlined in the whitepapers has been implemented. We won't rush something out just to hit a date, but rest assured everyone is working extremely hard to make it happen soon. The best engineering estimate is as follows:
a) Stacks 2.0 will certainly not launch before Oct 31st (Xenon will not finish by then).
b) Stacks 2.0 mainnet readiness (code complete) will likely not go beyond Dec 15th 2020.
Mainnet readiness means that there is a release that can be deployed by miners and it passes all checks. Miners will decide the exact launch date.
We'll do our best to give everyone a 2-4 week heads up before the launch is ready to be adopted by independent miners. The advance notice would give developers, exchanges, and others a chance to potentially integrate before the public launch and give the community time to plan an event around the launch.
Until then, we appreciate your patience and support in spreading the right information when it comes to the launch – below are some resources you can point people toward or reference. And better yet, if you're hopeful for a faster Stacks 2.0 launch, you can help by joining the contributors working to make it a reality!
We're in the home stretch
Thank you again to all those contributing to Stacks 2.0 and for your patience as we diligently work together toward a quantum leap for the ecosystem. It's hard to wait on something so big and exciting, but we're confident knowing it's better to deliver a great result than a rushed one, particularly when it comes to the financial, business, and personal implications of the software that will run on the Stacks 2.0 chain.
---
When mainnet resources:
---
Forward-looking statements
This communication contains forward-looking statements that are based on our beliefs and assumptions and on information currently available to us. In some cases, you can identify forward-looking statements by the following words: "will," "expect," "would," "intend," "believe," or other comparable terminology. These statements involve risks, uncertainties, assumptions, and other factors that may cause actual results or performance to be materially different. We cannot assure you that the forward-looking statements will prove to be accurate. These forward-looking statements speak only as of the date hereof. We disclaim any obligation to update these forward-looking statements.